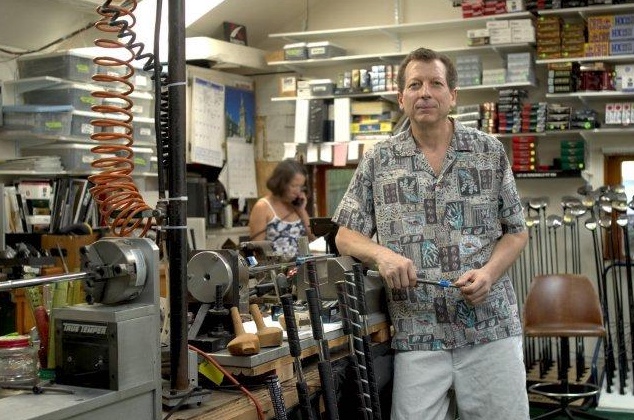 the name of the
game is demane
demane golf: a family legacy since 1940.
demane is the ultimate game changer
rick uses the GCQuad and flightscope x3 launch monitors to fit his customers to a tee.
Customers benefit from Rick DeMane's 45+ years' of insight, and leverage his investment in the dual-system launch monitor set-up in the DeMane Golf Fitting Room. The GCQuad's advanced quadroscopic imaging technology and lightning-fast processor power one the most precise, versatile launch monitors available today. Rick uses this in tandem with the Flightscope X3's Fusion Tracking patented technology, which combines 3D tracking radar and image processing for unmatched data accuracy, to offer customers the penultimate fitting experience.
Let's get down to brass tacks
the sistine chapel of golf in suburbia
DeMane Golf is an 80-year-old family business located on 35 Chapel Street, in Greenwich, Connecticut. It comprises several small buildings on the DeMane family home's unpretentious and welcoming property. Here customers will find Rene (pronounced reˈnei) DeMane's horticultural treasures propped up by old shaft pulls, two cats named Peanut and Poke, and a putting green bracketed by a trio of rooms housing a treasure trove of golf clubs, putters, balls, repair equipment, fitting technologies, manufacturer 'systems', and 80 years of other golfdom. It is, to some, a Mecca... for golf.
If you want it, DeMane Golf has got it.
The shop at DeMane Golf is a candy store for the real golfer. There are no crafted beers or cappuccino… just XXX hardcore golf porn! So, if you're looking for a brand new, solid wood, handmade straddle putter with a leather grip… DeMane Golf's got it. If you're looking for a $32 dozen of Pro Vis, DeMane Golf's got it. If you're looking for a custom-built set of Titleist C16 irons, with Grand Bassara shafts, Rick DeMane will make them for you. Want a killer deal on a 2019 Callaway Epic Flash 10.5° driver? DeMane Golf's got it, for now! From some of the most-obscure collector's items, to the Ricky Fowler's favorite TaylorMade 2019 TP5 Pix golf balls, if DeMane Golf doesn't have it in stock (they have the balls), Rene will order it for you, and DeMane Golf will treat you right, on price.
Drilling down on demane golf
What's under the hood, at DeMane Golf, is in plain sight. We have examined Rick and Rene DeMane closely, and can confirm they have zero magical stardust hidden in their veins. Nope, at DeMane Golf, you get friendly, straight-forward, no-nonsense treatment. The shop is where the epoxy meets the shaft, and it's got three generations of blood, sweat, tears, and… yes… joy too, writ all over it! Inside this golf shop you'll find every imaginable golfsmithing tool needed in order to score, grind, ream, bend, glue, heat, rip, grip, measure, and shaft anything and everything in your golf bag. And guess what? It's Rick who does the fixing, tweaking, and building. It's akin to rocket science, but at DeMane Golf… Rick and Rene keep it real.
the legacy continues
Rick DeMane, like his father Jack, and grandfather Nick, is a problem-solver, only with a dash of very good humor. His engaging personality, and witty sense of humor, compliment a curious, perceptive, creative, analytical mind that is uncanny at helping golfers optimize their games.
Beautiful aloha spirit
Rene DeMane is an artist, songwriter, and horticulturalist with a penchant for making beautiful things. She met her husband-to-be, Rick, on Maui while in college back in the late 1960s. They got married, raised a family, and continue a family tradition of helping customers to better their games.
A 100+ year legacy
Family patriarch, Nick DeMane, competed with hickories in the 1915 U.S. Open. Club-making was a part of the game back then. His son, Jack, was a master craftsman. Hogan, Wilson, and Hagen tapped Jack as their first authorized repair shop in the U.S. Rick dovetails the past with the future.
Mailing Address:
DeMane Golf, Inc.
35 Chapel Street
Greenwich
CT 06830

Email:
rdemane@demanegolf.com
Telephone:
(203) 531-9126
Fax:
(203) 531-4670
Northbound on I-95:
Take Exit 2 (1st in CT)
Left at the end of the ramp
Go back under freeway and turn 1st right onto Frontage Road
Immediately turn left on to Byram Road
Southbound on I-95:
Take Exit 2
At the end of the ramp go straight ahead
Take 2nd right on to Byram Road
From Byram Road:
Proceed to 3rd Stop sign
Turn right on to Putnam Avenue
At the top of the hill, turn left onto Byram Terrace Drive
Bear right on to Weaver St
Turn immediately left on to Chapel, #35 is on right